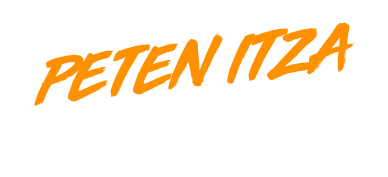 PETEN ITZA BOAT TOUR FROM FLORES
Take a tour in this amazing lake
Destination: Petén Itza Lake
Departure: Flores, Guatemala
Departure Time: 09:30
Return Time: 13:00
Lake Peten Itza is the third-largest lake in Guatemala. During your stay in Flores, take advantage of half a day and explore more of it on our tour. We will pick you up from your hotel and start our journey by boat, using a traditional boat typical of the area. As we sail, we will enjoy the breeze, although our boat ride won't be very long as we will reach our first stop, ARCAS, a wildlife rehabilitation center, in just 10 minutes.
ARCAS is a project where scientists rescue injured animals for various reasons, mostly due to the actions of the worst predator in the world: humans. The goal of this foundation is to rehabilitate and heal these animals before returning them to their natural habitat. Not all animals can fully recover, so they stay in the refuge to receive ongoing care. The tour lasts approximately one hour, and after that, we will continue to the village of San Miguel, where we will visit the Stone Horse monument in memory of the legend of the Mayan Horse to Hernan Cortez. We will dock and begin our ascent to the Mirador del Rey Canek, the highest part of the village, where we can admire a 360-degree view of the lake. We will be mesmerized by the wonderful colors, the Flores Island, and the towns of San Jose and San Andres. We will also understand why San Miguel, formerly known as Tayasal, with its enviable geographical position, was the last stronghold to fall to the Spanish, 100 years after the rest of the territory.
Afterward, we will have lunch at Raices del Lago (if it's Monday, we will change the restaurant), where a delightful five-course menu awaits us. If you wish, you can even take a swim before we head back to the hotel. This entertaining tour offers various experiences and is highly recommended for families with children. It serves as a great complement to the Tikal tour.
We have a minimum of 2 for this tour. On Monday lunch will be in Casa de Enrico Restaurant.
This price does not include 5 % credit card fee.
09:30 am:   We pick you up at your hotel in Flores area
10:00 am:   We start our boat tour ⛵️
10:30 am:   We arrive at the ARCAS Animal Rehabilitation Center
12:00 am:   We'll go up to the see El Mirador del Lago
01:00 pm:  We have Lunch and give you free time to enjoy the lake
NOTE: This is a private tour you make your own schedule